Did you know that the design of your kitchen, or any room in your home, your mood? That's right! So, how do you design a kitchen that both inspires joy and provides better functionality? Elevate your kitchen remodeling project with the power of a few tricks from the experts here at Kitchen Magic! Read on for a few proven ways that you can update your kitchen design to influence and improve the mood of everyone in your home.
Mood-Boost With More Color
Beyond aesthetics, the colors you use in your home can have a profound effect on the emotional well-being of you, your family and even your guests. Colors instantly set the mood and subconsciously convey emotion and invoke a physiological reaction.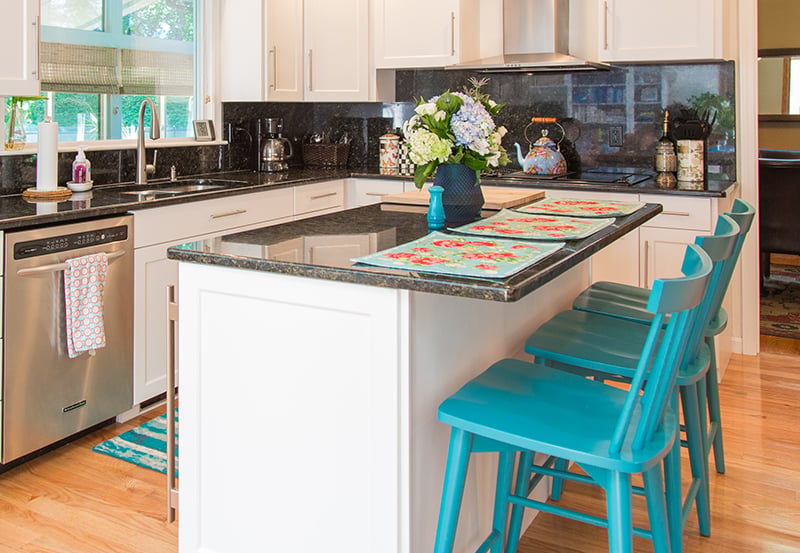 For instance, accents of uplifting yellow in the kitchen will brighten, energize and can even increase metabolism. Meanwhile, hints of emerald green will garner a cheerful, luxurious and jewel-like sophistication. Coastal-inspired teal will add a cheerful, serene, calm and confident mood. Seafaring blue is a highly productive color, whether it's used for the office, the kitchen, or any room to invigorate. Finally, daring red is an energized and fond choice that can punctuate styles from vintage to craftsmen, rustic, even a contemporary sleek spin.
Don't forget about reflective and black finishes which provide contrast and enliven creativity while cooking. Consider matte black cabinet pulls paired with a black kitchen faucet with a sprayer to inspire your next culinary adventure. Or look to nature for your color palette. For example, earth tones can promote an uplifting mood, as they connect one to nature. Talk to your kitchen design consultant for more advice on positive color palette choices.